Libraries Committed to Excellence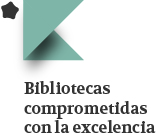 The origins of this collaborative group for the development of benchmarking actions date back to 2008. Several libraries of the universities of Cádiz, La Laguna Burgos and the Europea de Madrid, belonging to the Network of Spanish University Libraries (REBIUN), united by their perspective and alignment towards quality based on the EFQM model. They decided to establish a collaboration agreement for the exchange of data, with the aim of sharing them for the implementation of actions to improve their services.
In 2013, in a ceremony held at the headquarters of the CRUE in Madrid, the original agreement was renewed and updated, and the new members adopted the name of Libraries Committed to Excellence. The group is constituted by the university libraries of Cádiz, La Laguna, Europea de Madrid, Valladolid and Castilla La Mancha, with the main objective of exchanging data, information and experiences, as well as other measurement indicators, on the satisfaction of its users to improve library products and services. In 2016, the CRAI of the University of Barcelona and the Library of the University of Zaragoza adhered to this agreement and join the group.
With the aim of continuing to advance on their path to excellence, these university libraries are committed to mutually transferring data and indicators related to key results, results for clients, results for people and results for society, using shared communication mechanisms and information and data exchange.
In addition, all the members of the Group of Libraries Committed to Excellence acquire the following commitments:
• Share data and experiences on good practices in the operation and services of the library.
• Follow a Quality and Excellence assurance system based on the EFQM model.
• Mutually transfer the same data and indicators related to: key results; results in clients; results in people and results in society, for statistical and comparative purposes.
• Respect the privacy of the data obtained.